IMAGE: GIVENCHY
First, the disclaimer. This isn't exactly a new bag, it's actually from Givenchy's Spring-Summer 2017collection, and because it's already June, it's probably already on sale but more on that later.
Simply known as the Mini Bow-Cut, the outline of the bag's flap does indeed look like a bow that's just cut on one side, accompanied with a rather chunky metal hardware sling and a clasp so complicated looking that even Jason Bourne will have difficulty opening it. But I jest, it's simply a push-lock clasp that opens into a bag that measures 18 cm by 13 cm, which is not exactly big but would explain why the word 'mini' appears in front of the name.
IMAGE: GIVENCHY
Available in quite a huge variety of colours/finishes/leathers, it is definitely an elegant bag, one that's perfect for a night out in town or weekends spent cafe-hopping/and or shopping. Now for the sale bit.With Net-A-Porter having already kicked off both their US and APAC end-of-season sales, there is a leopard-print one on sale at 40% off, which makes it USD1260 (APAC price) after discount. Not bad at all, you just have to like the leopard prints.
For everything else, your best bet is to head to your nearest Givenchy boutiques, because given how they look to be classics-in-the-making, most might not go on sale any time soon.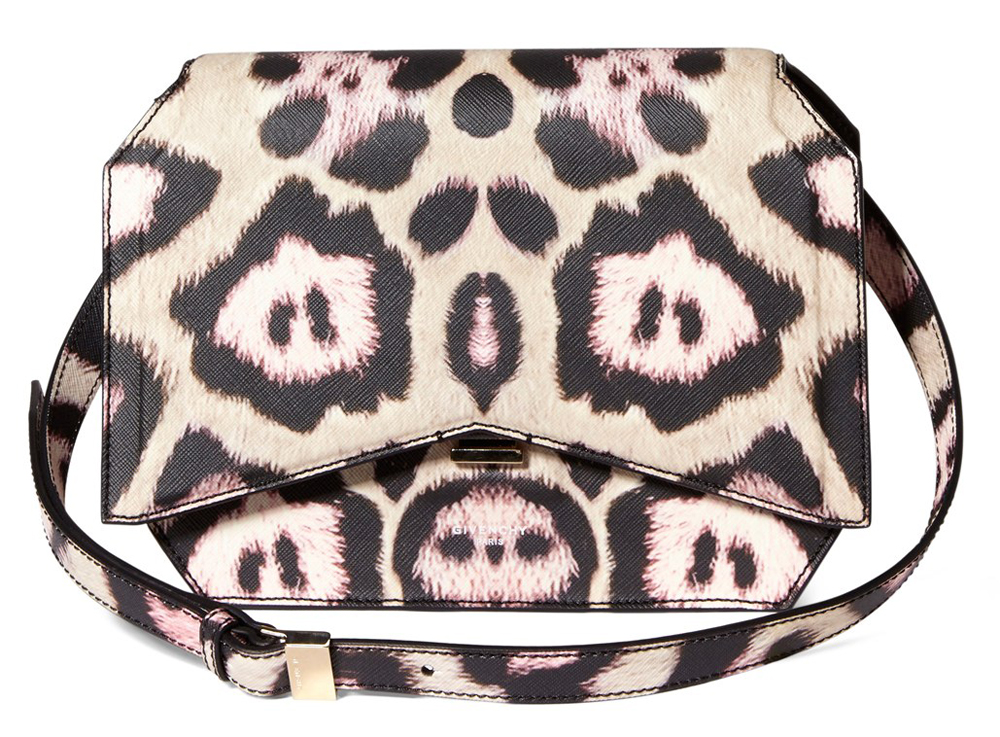 GIVENCHY
We mentioned earlier this week that structured, long-strap flap bags are the hottest thing going in handbags right now, and Givenchy may have our favorite of the new crop. The first version of it to hit the Internet was immediately crowned our Bag of the Week, and now several more materials, colors and sizes have arrived.
In spite of our best efforts, we're still not entirely sure what this bag is called, and maybe neither is Givenchy. The brand gives model names to all its handbags, and especially to new launches likely to garner consumer attention, but the brand's Fall-Winter 2015 lookbook simple refers to this as a "flap bag." Bergdorf Goodman called it the New Line Flap Bag when it first hit the brand's site, and that's whatMATCHESFASHION.COM is called the two it currently carries, but now Bergdorf Goodman has changed the product name to the Bow-Cut Flap Bag, which is what Saks is also calling it. Long story short: whatever Givenchy eventually decrees we should call this bag, it's really nice-looking.
Structured, mid-size flap bags almost always recall Chanel in some way, but this bag takes the structure and makes it all Givenchy's. The look is angular and modern, with little of the ladylike nostalgia that usually characterizes the particular shape.
The regular size of the bag, which is a little over 10 inches wide, has a strap drop that's adjustable up to 15 inches, which means it will hit near a woman's natural waist; a small wallet-on-a-chain version has a longer strap that allows for crossbody wear. For the regular size, the strap appears to be detachable through a buckle and loops under the bag's top flap, allowing the carrier to use it as a clutch.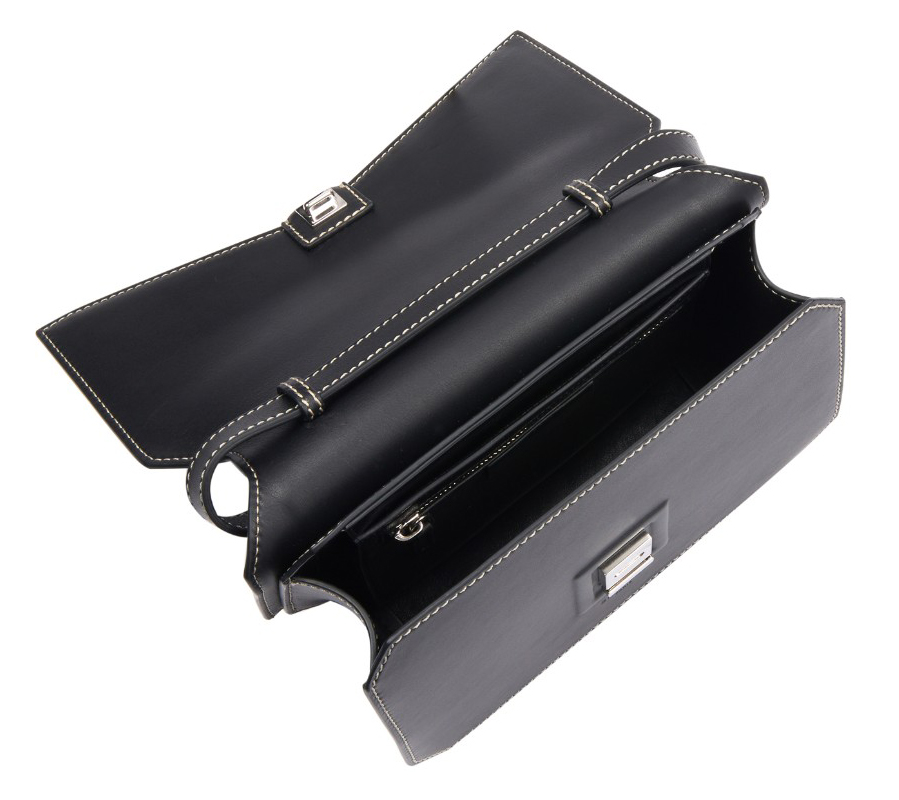 The regular size in smooth leather currently retails for $2,150, while the leather WOC starts at $1,490. Some versions are available immediately, while others are set for pre-orders that deliver in November or March. Check out all the availability we found for the bag below.
Givenchy New Line Bow-Cut Flap Bag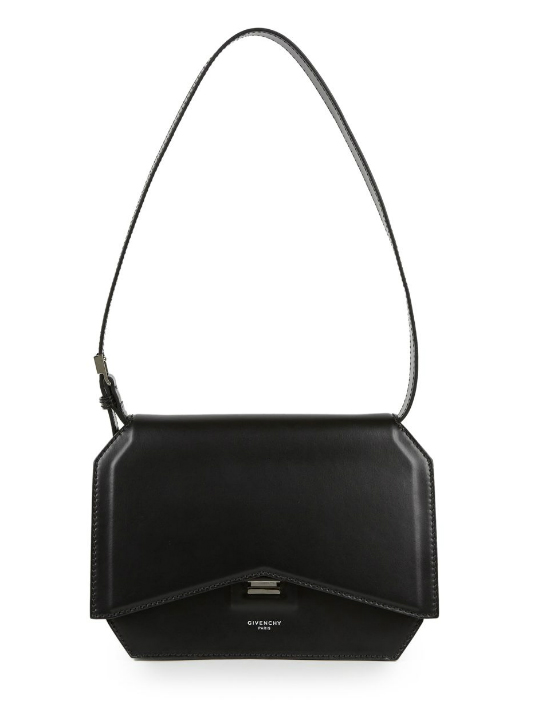 Givenchy New Line Bow-Cut Flap Bag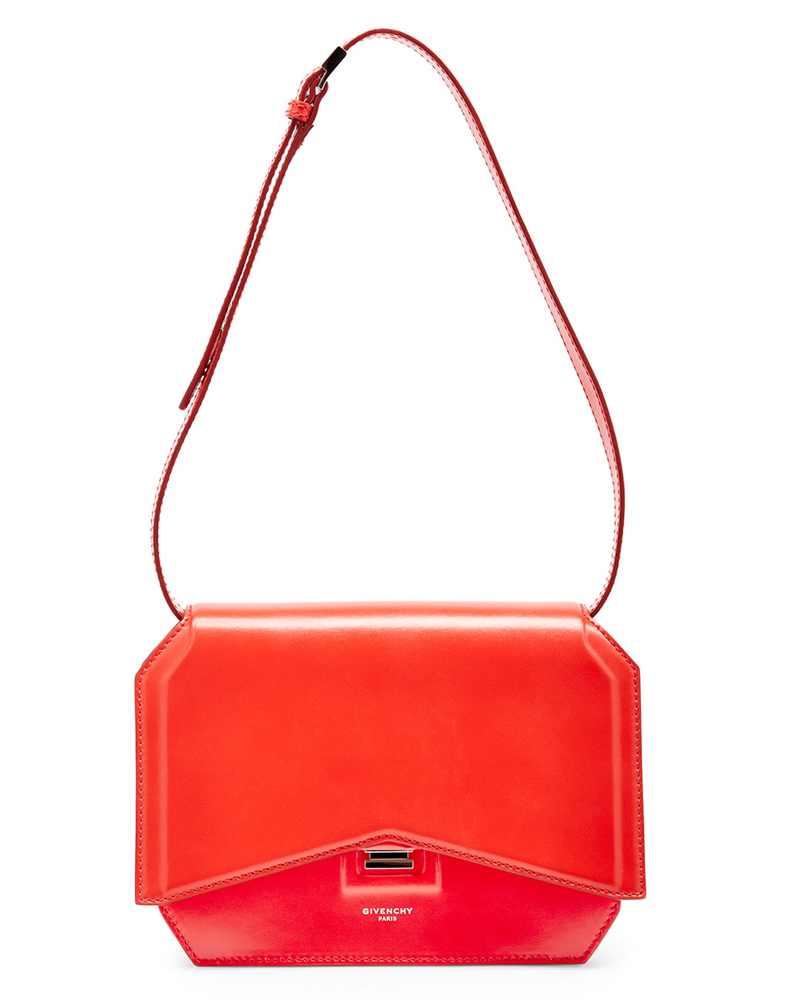 Givenchy New Line Bow-Cut Velvet and Leather Shoulder Bag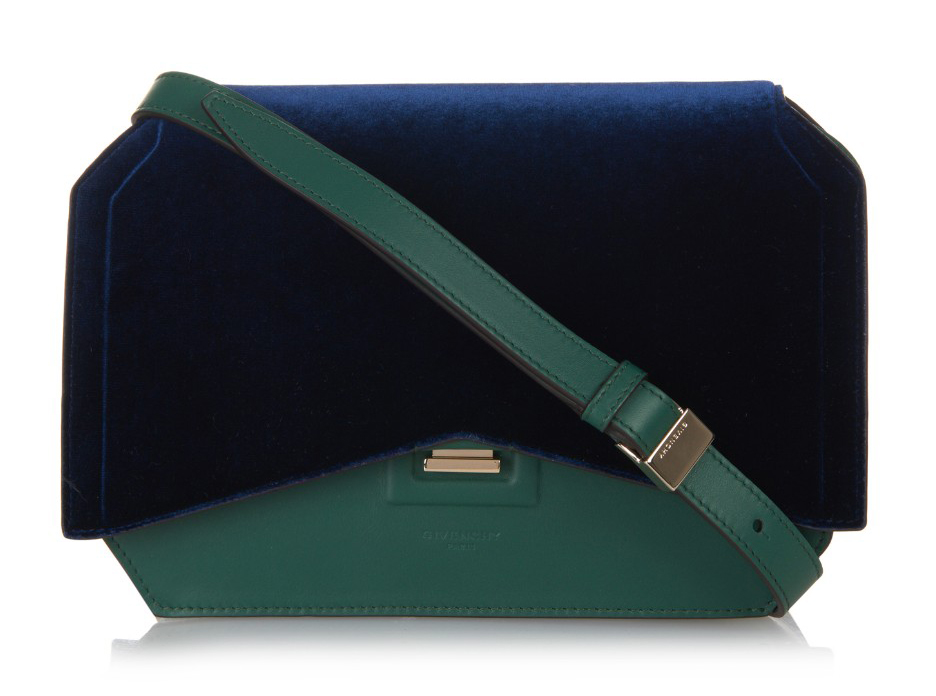 Givenchy New Line Bow-Cut Flap Bag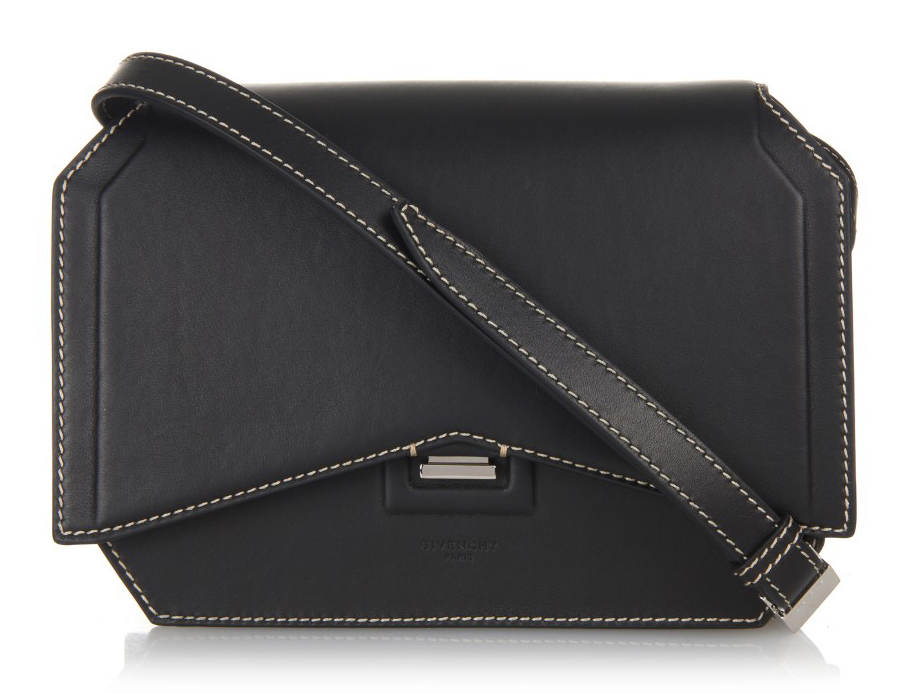 Givenchy New Line Bow Cut Jaguar Print Bag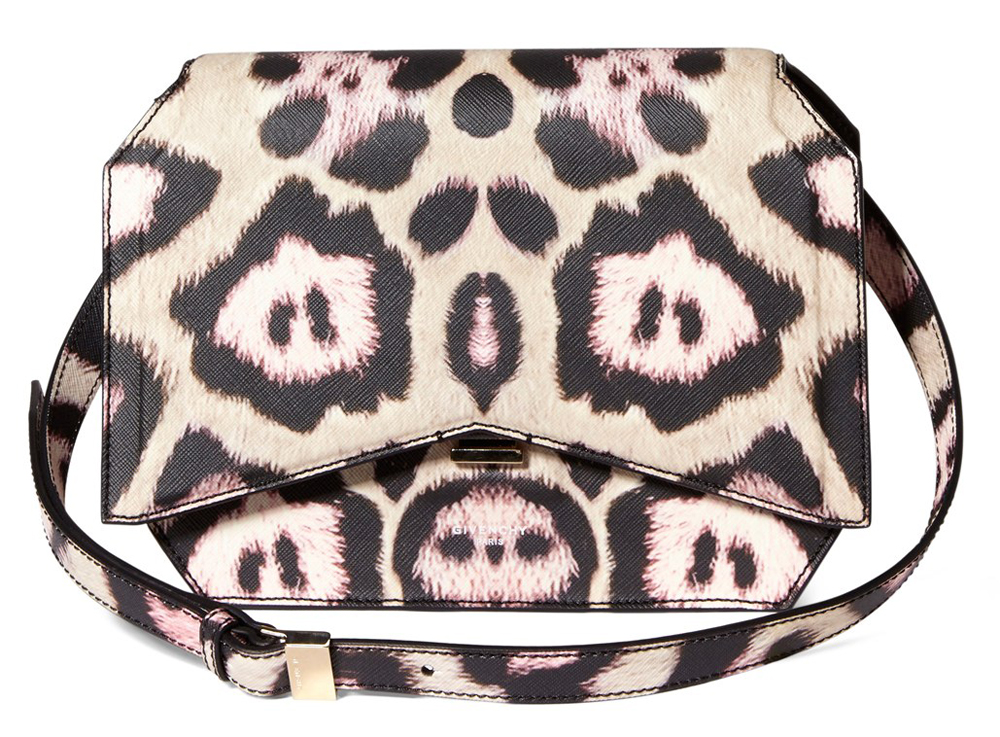 Givenchy New Line Bow Cut Jaguar Print Bag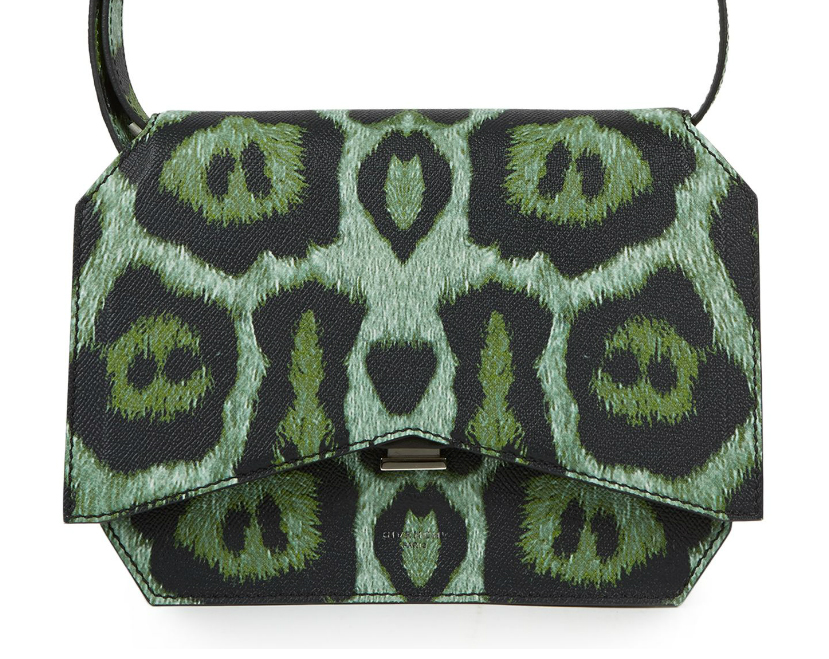 Givenchy New Line Bow Cut Chain Wallet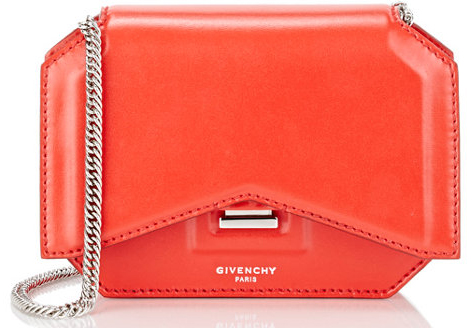 Givenchy New Line Bow Cut Chain Wallet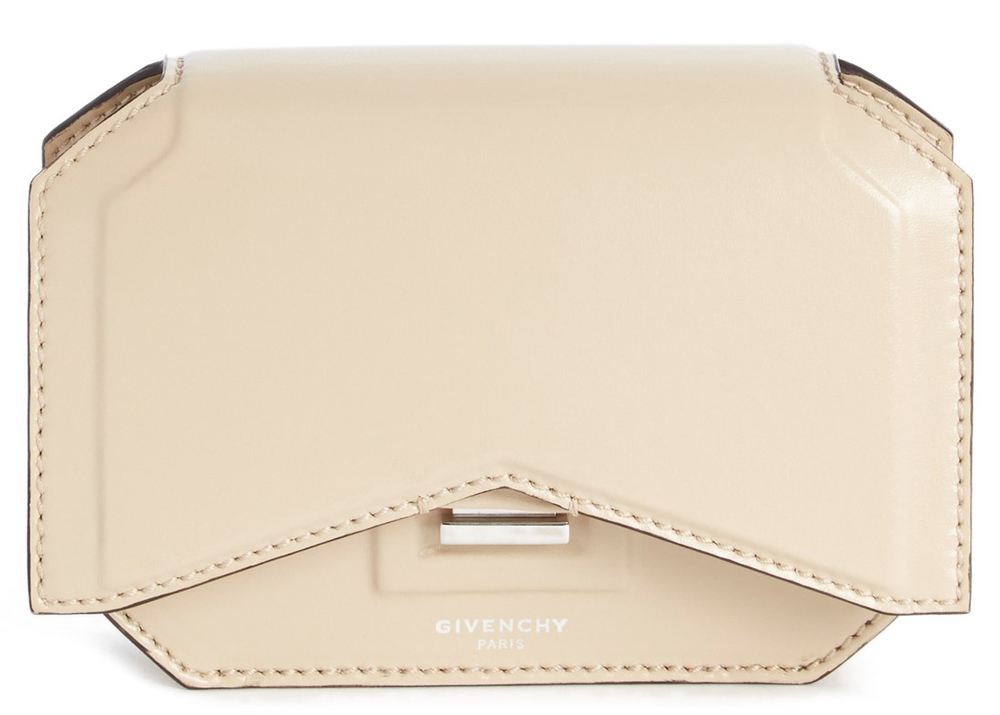 Givenchy New Line Bow-Cut Flap Wallet on Chain Bag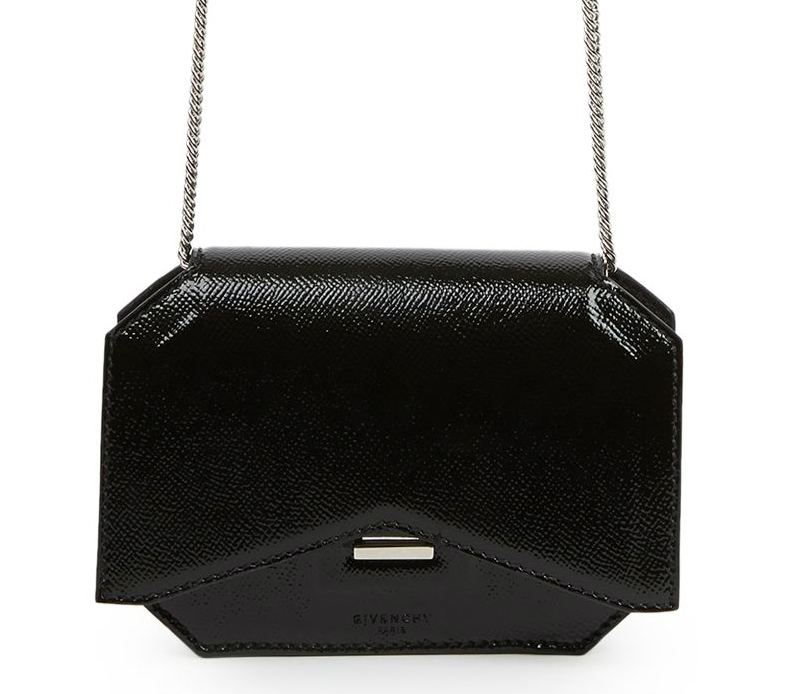 Presenting the Givenchy Bow Cut Bag which first appeared in the Fall/Winter 2017 Collection. The bag features a flap front with a double pointed front flap design that resembles a bow.  The bag closely resembles the Pandora Box but with a more updated look.
It has a push lock closure and gusseted sides. It comes in two sizes, Medium and Mini. The Medium size has a detachable and adjustable leather shoulder strap, and can be used as a clutch. The Mini size, or also known as the Chain Wallet, includes a chain strap. The interior is made of leather and has a slip pocket with three card slots for the mini, while zip and two slip pockets for the medium.
Style, Price & Size
Style

Price

Size

Givenchy Lizard Bow Cut Medium Bag
$5,450.00 (USD)
6.7" H x 9.5" W x 3.5" D
Givenchy Brogue Bow Cut Medium Bag
$2,690.00 (USD)
Givenchy Jaguar Printed Bow Cut Medium Bag
$2,595.00 (USD)
Givenchy Velvet/Calfskin Bow Cut Medium Bag
$2,390.00 (USD)
Givenchy Bow Cut Medium Bag
$2,150.00 (USD)
Givenchy Patent Bow Cut Chain Mini Bag
$1,490.00 (USD)
5" H x 7" W x 2 ½" D
Givenchy Leather Bow Cut Chain Mini Bag
$1,390.00 (USD)