Categories:
Other Brands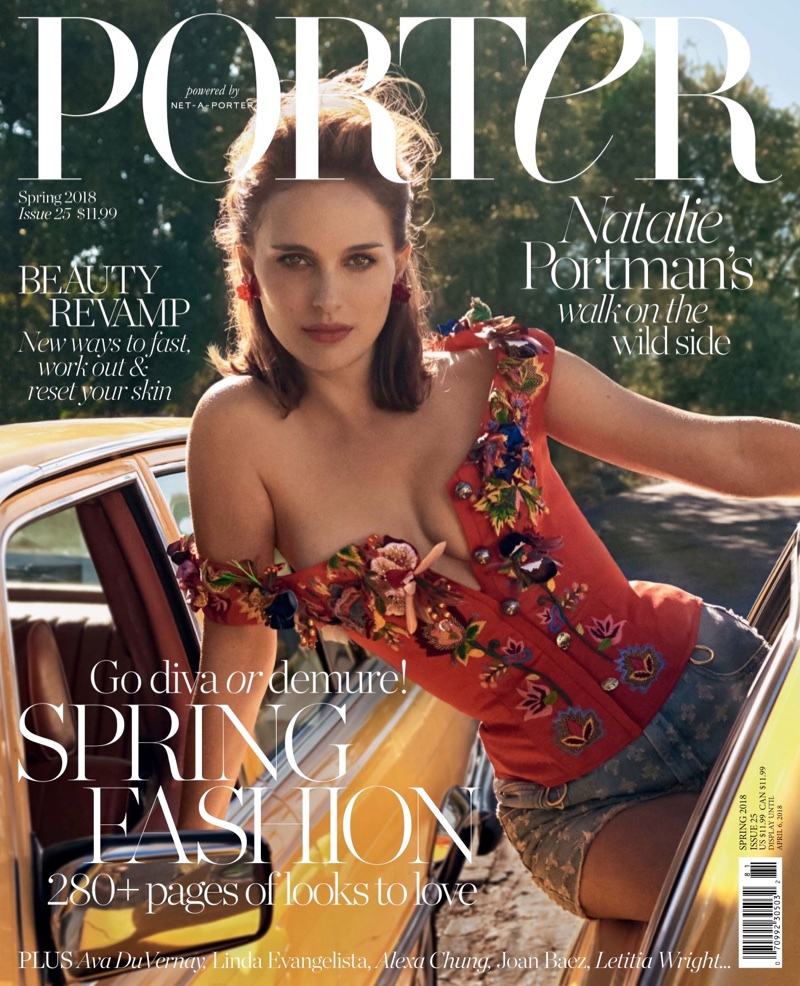 Natalie Portman on PORTER Magazine Spring 2018 Cover
Natalie Portman looks like a vintage babe on the Spring 2018 cover of PORTER Magazine. Lensed by Cass Bird, the actress poses in an Andreas Kronthaler for Vivienne Westwood top with Isabel Marant Etoile shorts. Inside the magazine, Natalie wears red-hot fashions for the spread. Stylist Veronique Didry selects scarlet pieces from leading brands such as Dior, Tory Burch, Givenchy and more.
Related: Natalie Portman Radiates in New Diorskin Forever Campaign
COVER SHOOT: NATALIE PORTMAN FOR PORTER SPRING 2018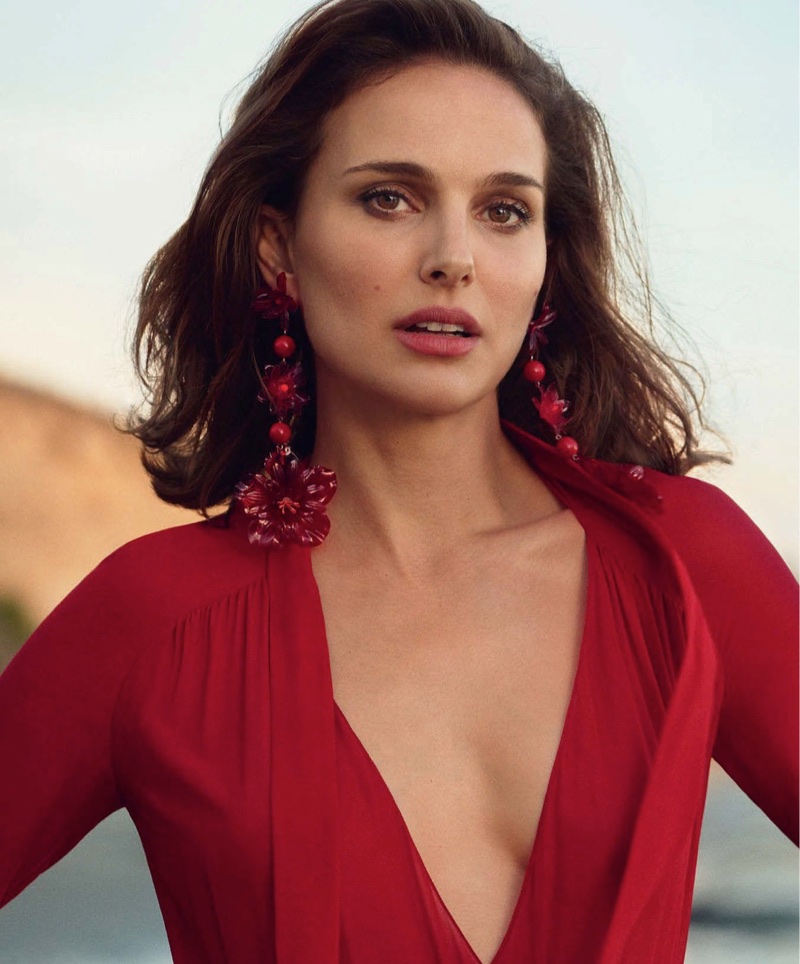 Actress Natalie Portman wears Dior dress with Isabel Marant earrings
NATALIE PORTMAN ON HER HOLLYWOOD FRIENDS
In her interview, Natalie talks about finding friends in the entertainment industry.
"Recently, I've been spending more time with other actresses, not in a fake 'just because we're actresses so we should hang out' way. I feel there's been a shift. I felt that way on Annihilation too, working with a strong female ensemble cast. We are used to being 'the girl' on set. It was such a joy to be with a group of women."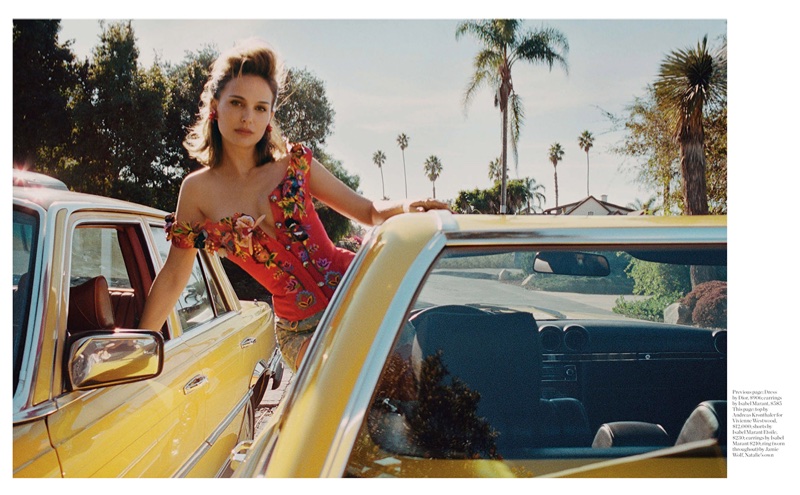 Posing in a vintage car, Natalie Portman wears Andreas Kronthaler for Vivienne Westwood top and Isabel Marant Etoile shorts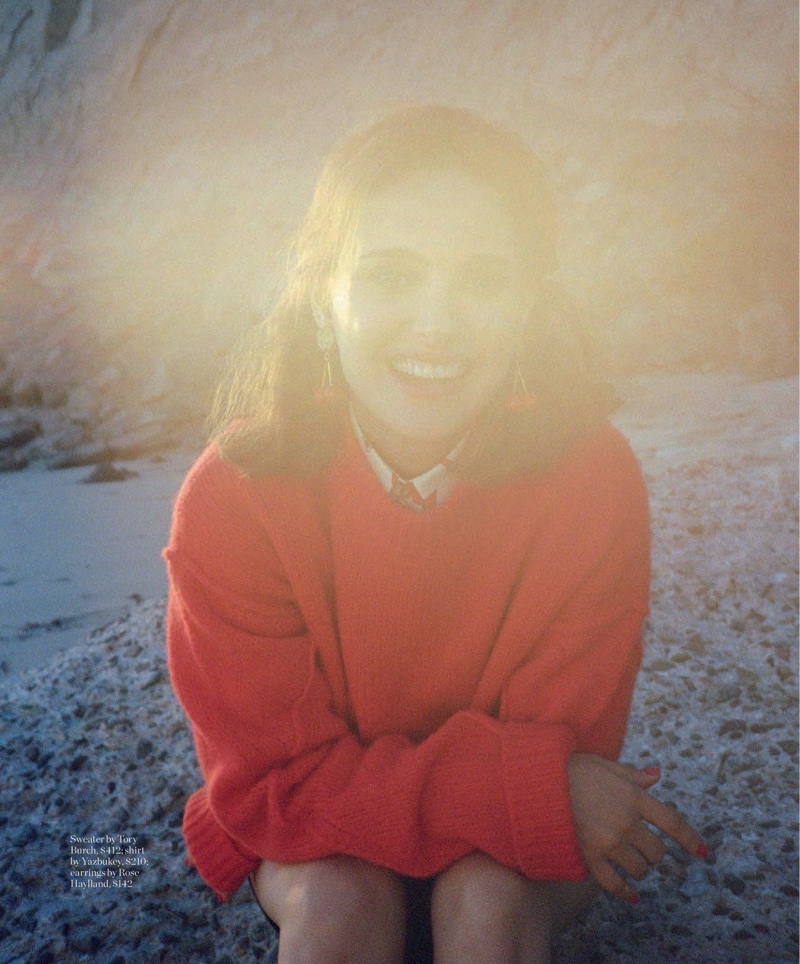 Flashing a smile, Natalie Portman poses in red Tory Burch sweater and Rose Haylland earrings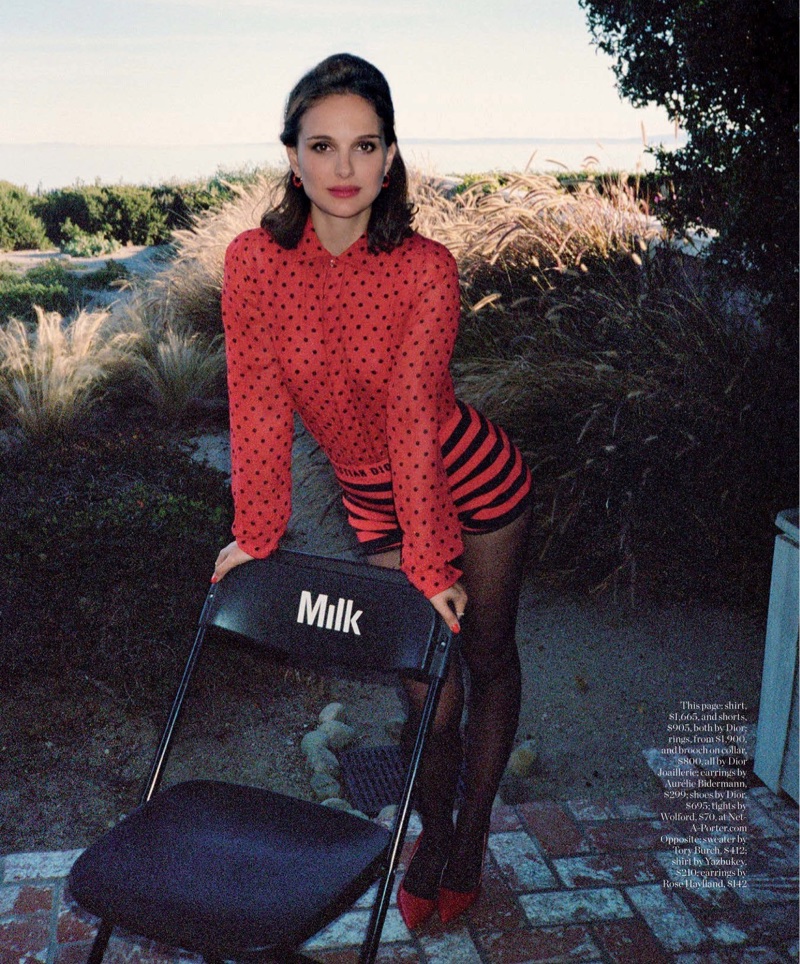 Actress Natalie Portman wears Dior shirt, shorts, heels and pumps
comnum(0) tbcount(0) tbcount(368)
Categories:
Other Brands
When we first-spotted this handbag, it wasn't announced yet at Chanel Official Website. So when reviewing, we called it the trio pouch flap (temporary), because it has three built-in compartments. But this nice piece of seasonal bag 's true name is actually Chanel Chic Citizen Flap Bag. Introducing for the Spring Summer 2018 Collection act 1.
The Design
Perhaps the Chic Citizen Bag is inspired by the famous Coco Handle Bag as both are designed with comfy handles for tote-carry-option. But the Chic Citizen Bag looks a bit different; it's gorgeous in its own way. The bag is ladylike, feminine and looks classic. It's clean, but beautified with Chanel's famous diamond quilting. The handles are thinner than the ones on the Coco Handle and it comes with the signature woven chain leather strap for shoulder or cross body carry.
Besides it's shape, every component is mirrored from the classics like the Classic Flap Bag including the smooth CC hardware on the front flap. And who knows, maybe this bag will pave its own way to the top and becomes the next big thing, following the footsteps of the Trendy CC and the Gabrielle Bag.
But what we'd like to see is more variation of leathers. This bag is made from lambskin and we understand it gives the butter-soft and luxurious feel, but to use as an everyday bag, it would be nicer if there were a caviar or calfskin available, don't you think?
The Interior
There are three separated compartments in the interior, and it's quite similar to the Chanel 3 Bag or the Trio Bag. And this is a medium-sized handbag, which has sufficient space to carry all your daily essentials and more.
The Sizes And Prices
Style code A57044, measuring 8.1' x 11.4' x 4.3' inches, priced at $3700 USD, €3500 euro, £3170 GBP, $5880 SGD, $30700 HKD, $5490 AUD, ¥483840 JPY, 18350 MYR, $4875 CAD via Chanel boutiques.
More Images And Colors
comnum(0) tbcount(0) tbcount(298)
Categories:
Other Brands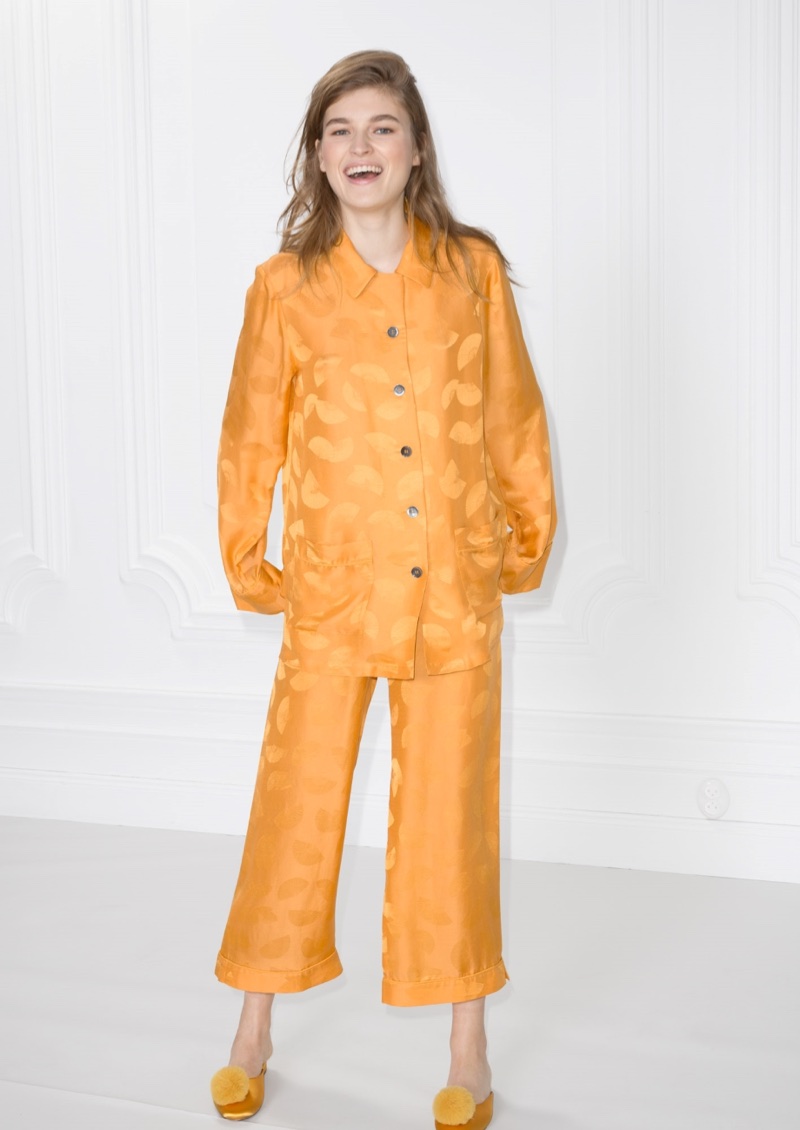 & Other Stories Lounge Jacquard Shirt ($85) and Printed Jacquard Trousers ($65)
This colorful pajama set comes in a relaxed fit with a painterly print.
If you love fashion, you will want to look chic from day to night. And if you want to sleep in style, take a look at & Other Storiesnew arrivals. The Swedish fashion brand spotlights its latest sleepwear and loungewear. From pajama sets to playsuits and robes, these comfortable pieces will have you dreaming with ease. A color palette of red, yellow and white offers plenty of options. Discover some of our favorites from the sleepwear collection below, and shop more at Stories.com.
Related: Vacation Sensation | 7 Swimsuit Styles From & Other Stories
& OTHER STORIES SLEEPWEAR COLLECTION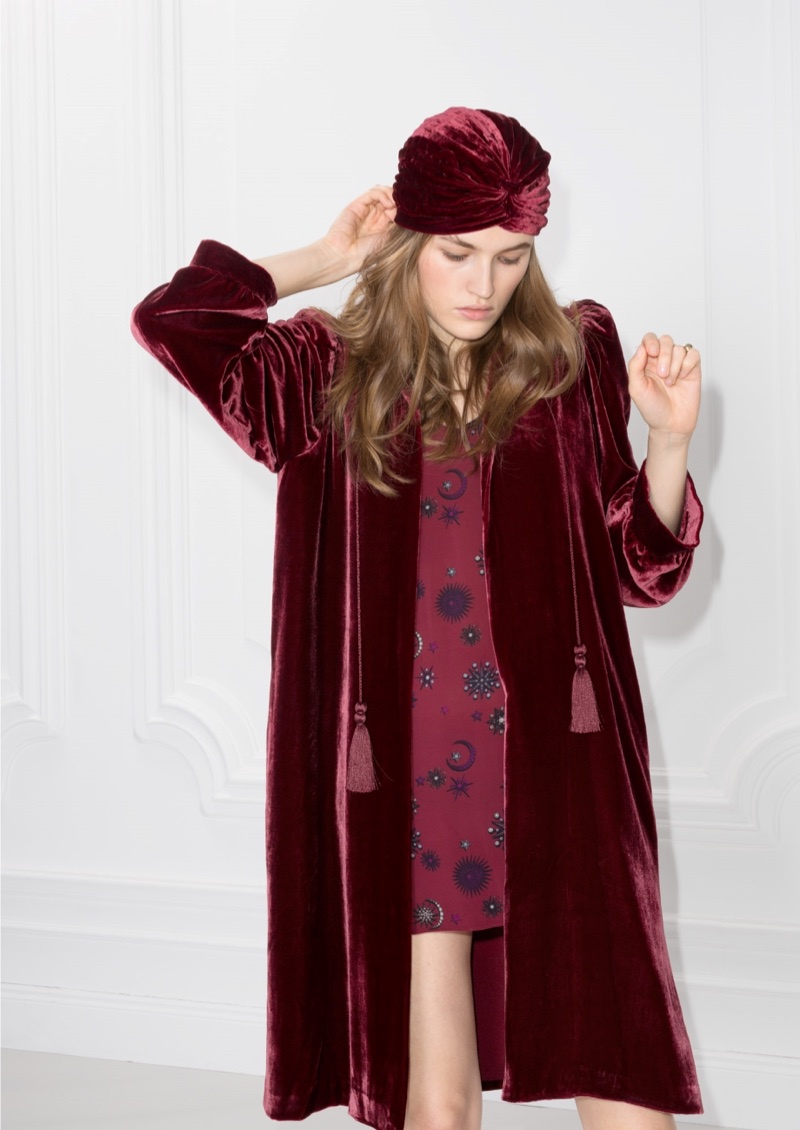 & Other Stories Velvet Kaftan in Red $145
A velvet kaftan robe features a rounded mandarin collar with tassel rope ties.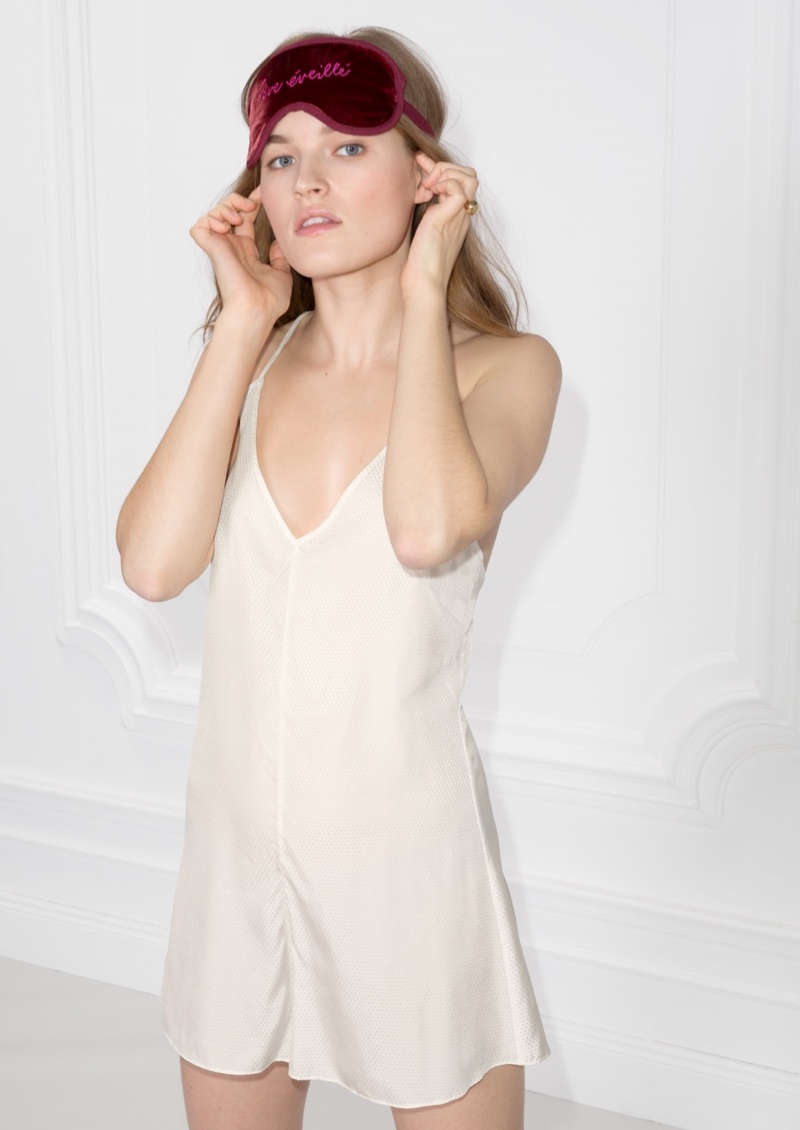 & Other Stories Lounge Playsuit $65
Go to sleep in style wearing a jacquard print lounge playsuit with a v-neckline.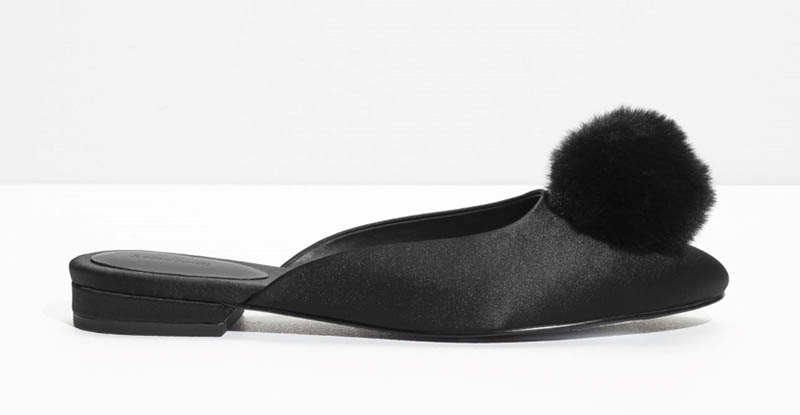 & Other Stories Pom-Pom Slip-Ons $95
Made with a satin finish, this slip-on slipper features pom-poms decoration.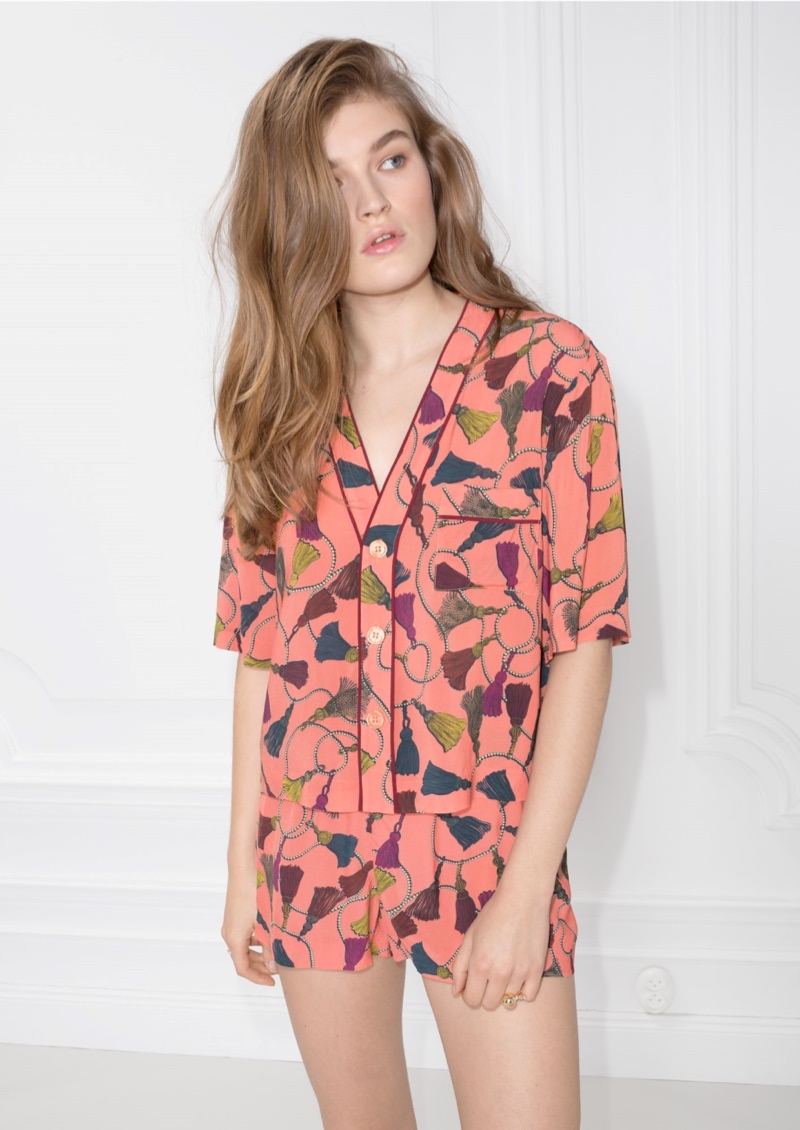 & Other Stories Cropped Lounge Shirt ($65) and Lounge Shorts ($65)
With a tasseled print, a colorful pajama set will have you sleeping in style.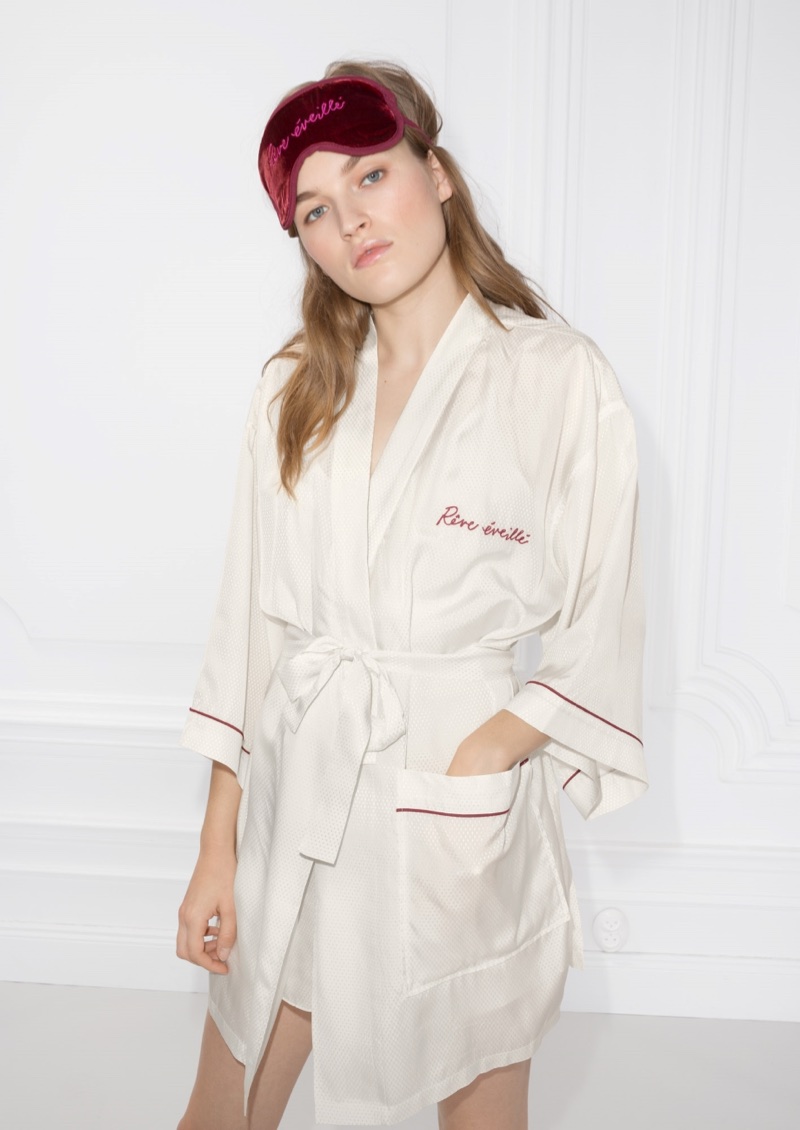 & Other Stories Kimono Robe $125
Made with kimono style sleeves, this robe ties at the waist with piping detail.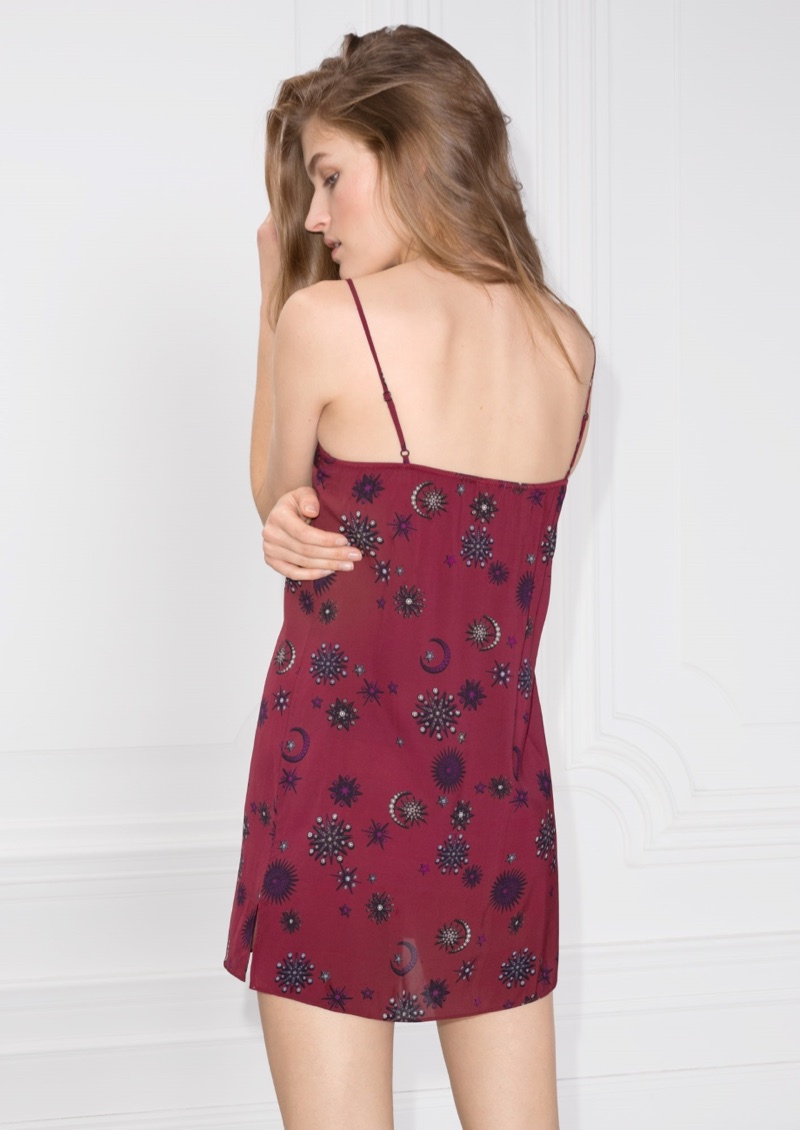 & Other Stories Slip Dress in Red $65
Keep comfortable in a printed slip mini dress featuring spaghetti straps.
comnum(0) tbcount(0) tbcount(297)
Categories:
Other Brands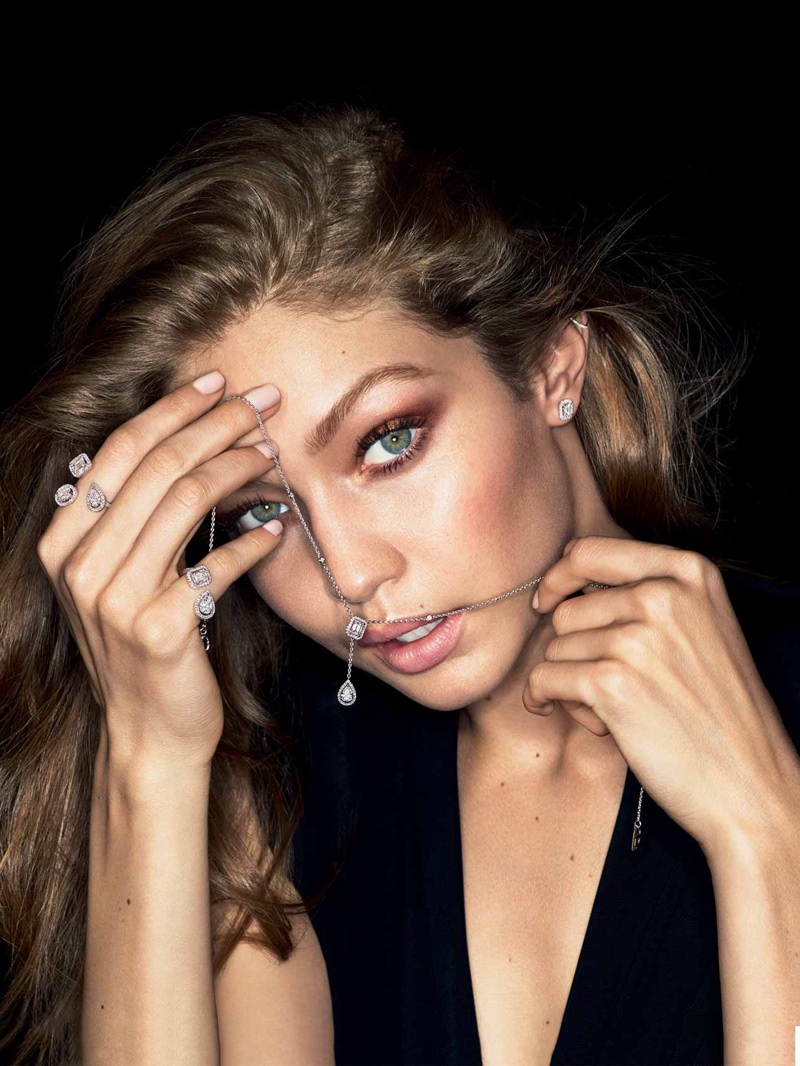 Gigi Hadid stars in Messika 'My Twin' campaign
Supermodel Gigi Hadid returns as the face of Messika's 'My Twin' jewelry campaign. The blonde stunner teamed up with the French jeweler last year and returns for 2018. Gigi smolders in front of the lens of photography duo Mert & Marcus. The new collection juxtaposes emerald cuts with elegant pear cuts made of diamonds. For beauty, Gigi wears her hair in lush waves with a smokey eyeshadow look.
Related: Gigi Hadid Poses in Reebok's 'Always Classic' Sneaker Campaign
CAMPAIGN: GIGI HADID FOR MESSIKA JEWELRY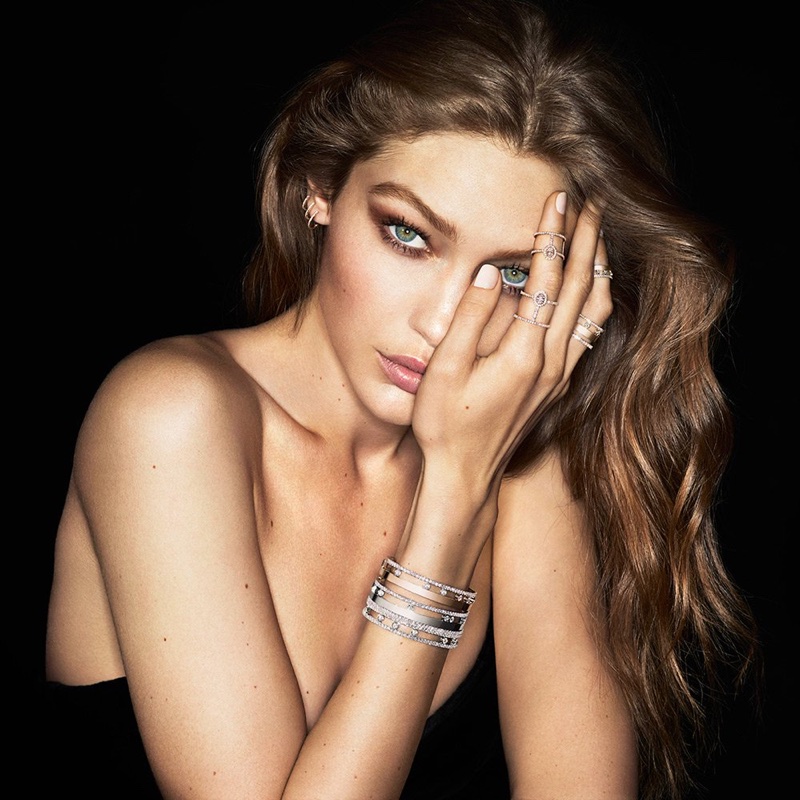 Messika enlists Gigi Hadid for latest jewelry campaign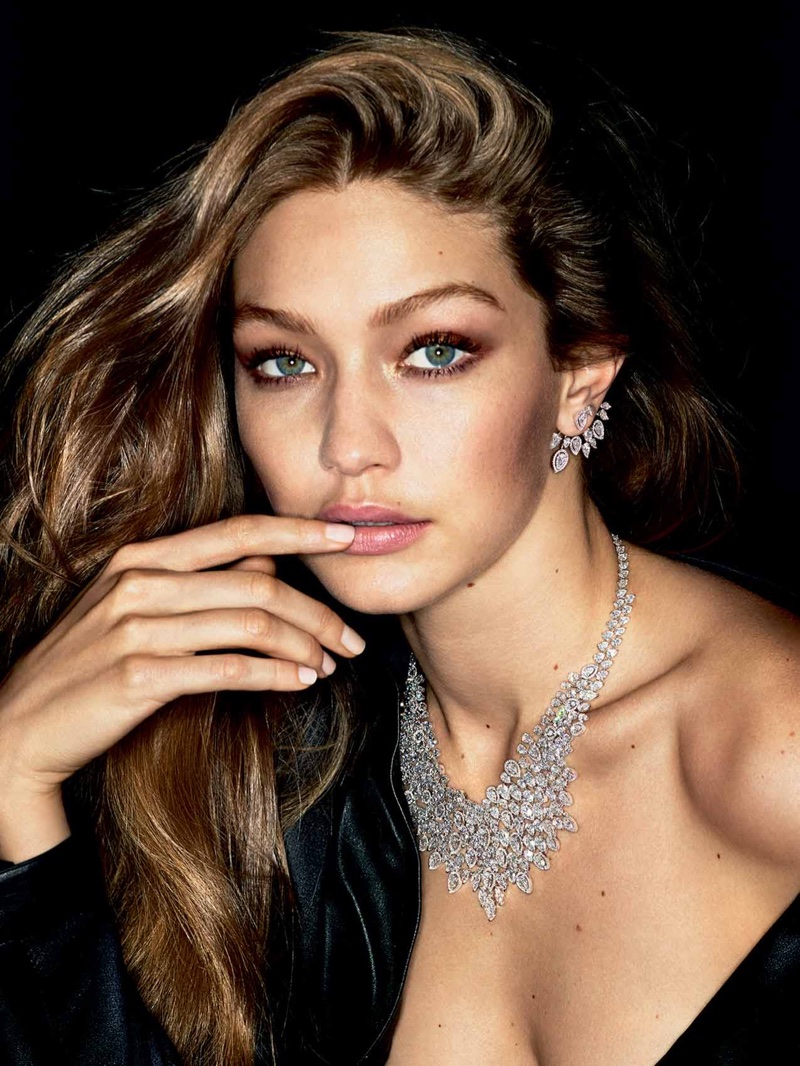 Gigi Hadid wears glittering gems in Messika Jewelry campaign
comnum(0) tbcount(0) tbcount(265)
Categories:
Other Brands
So you've already met the Chanel CC Filligree Vanity Case Bag, the bigger version. And you've waited for a very long time for a smaller version, but it didn't come. Well, we've some splendid news to share with you. Please meet the Chanel CC Filligree Vanity Clutch With Chain from the Spring Summer 2018 Collection Act 2. It's a brand-new bag – comparable to the WOC but a complete different version. You will absolutely love it.
The Design
It's the exact same CC Filligree Vanity Case Bag, but then downsized into a small handbag. This bag is perfect for the casual days, perfect for the evenings, perfect for any special occasions. Put it next to your bed and I promise you – it's better than swallowing sleeping pills.
The CC Filligree Vanity Clutch With Chain is missing one vital piece though. It would be great if they've added the CC logo with luggage tag as well as the key tag. The center of this bag is crafted with the house's signature in leather and refined with gold hardware. And also, the CC logo looks much larger on the downsized version than on the bigger version. What's more? There is no handle, but it does come with a long shoulder strap.
The Interior
The CC Filigree Vanity Clutch With Chain doesn't have the same size like the Wallet On Chain Bag, so it cannot be called as a WOC. This bag is sized at 5.1' x 6.7' x 2.8' inches while the Classic Quilted WOC is measured 4.8' x 7.6' x 1.4' inches. So the CC Filligree Clutch With Chain is bigger in length and more important, in depth.
The Prices And Sizes
Style code A84452, measuring 5.1' x 6.7' x 2.8' inches, priced at $2550 USD, $3325 CAD, €2390 EUR, £2160 GBP, $4020 SGD, $21000 HKD, $3760 AUD, ¥12520 MYR via Chanel boutiques.
More Images And Colors
comnum(0) tbcount(0) tbcount(378)
Categories:
Other Brands
Rising star Lexi Boling makes casual style look cool in the March 2018 issue of Vogue Japan. In front of the lens of Giampaolo Sgura, the American beauty poses in the wardrobe essential of denim to the absolute max. Fashion editor Anna Dello Russolayers blue jeans on denim from labels such as Diesel, 7 For All Mankind and MM6 Maison Margiela.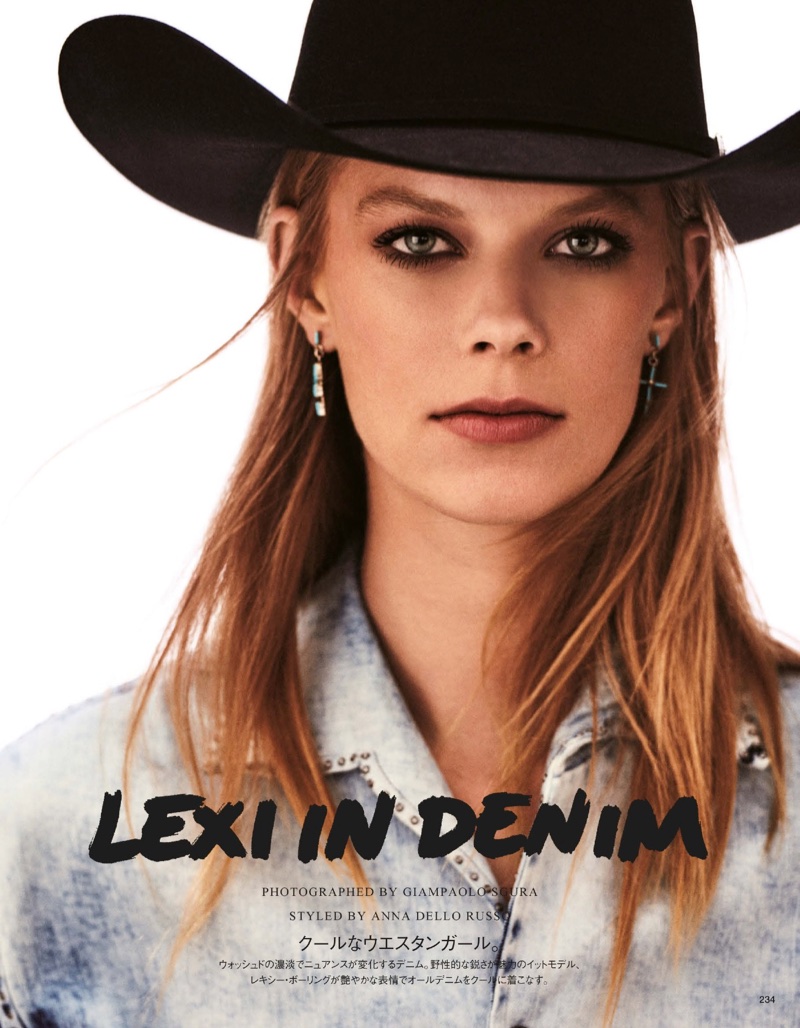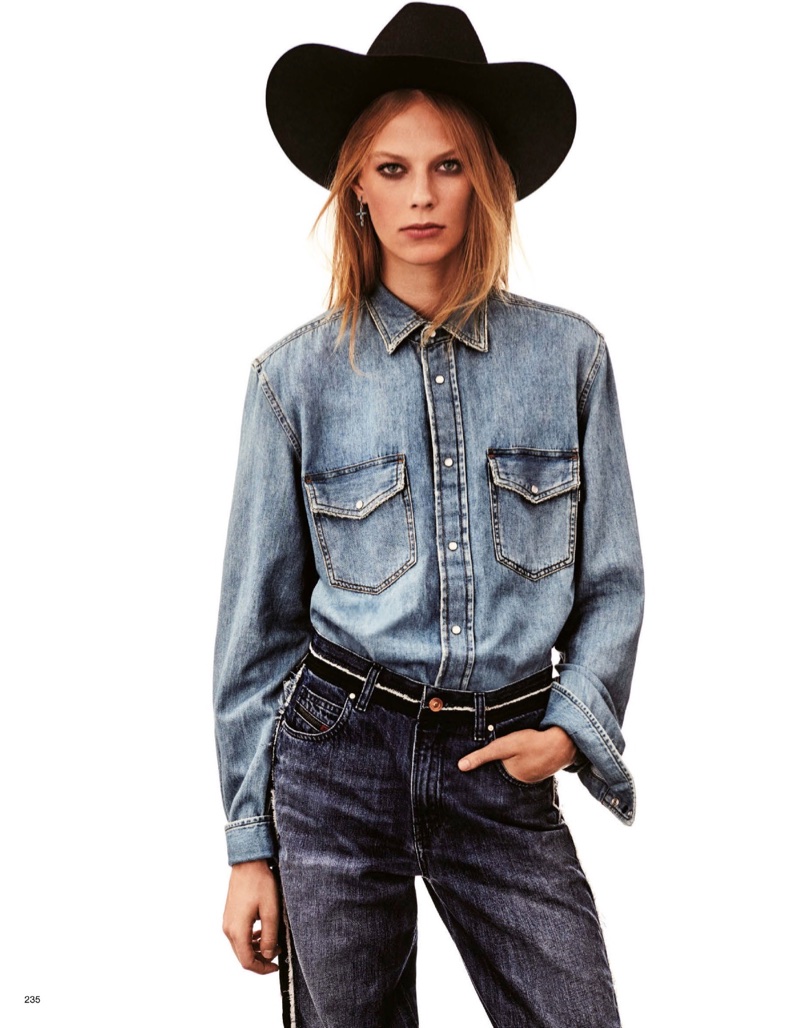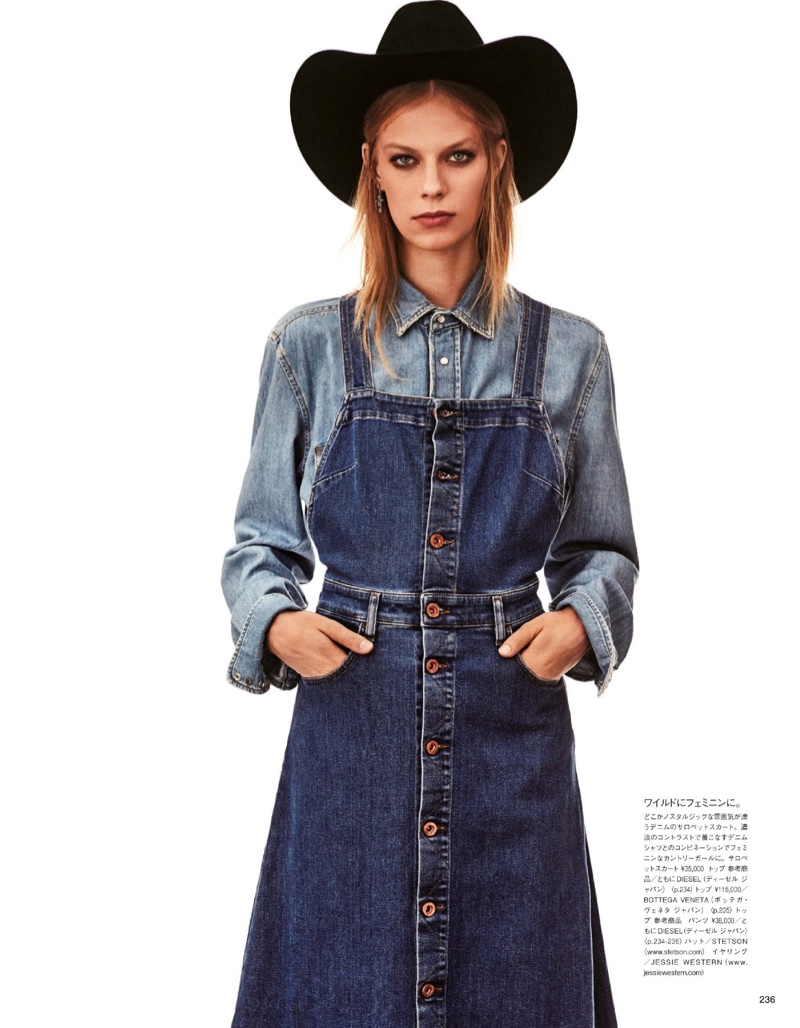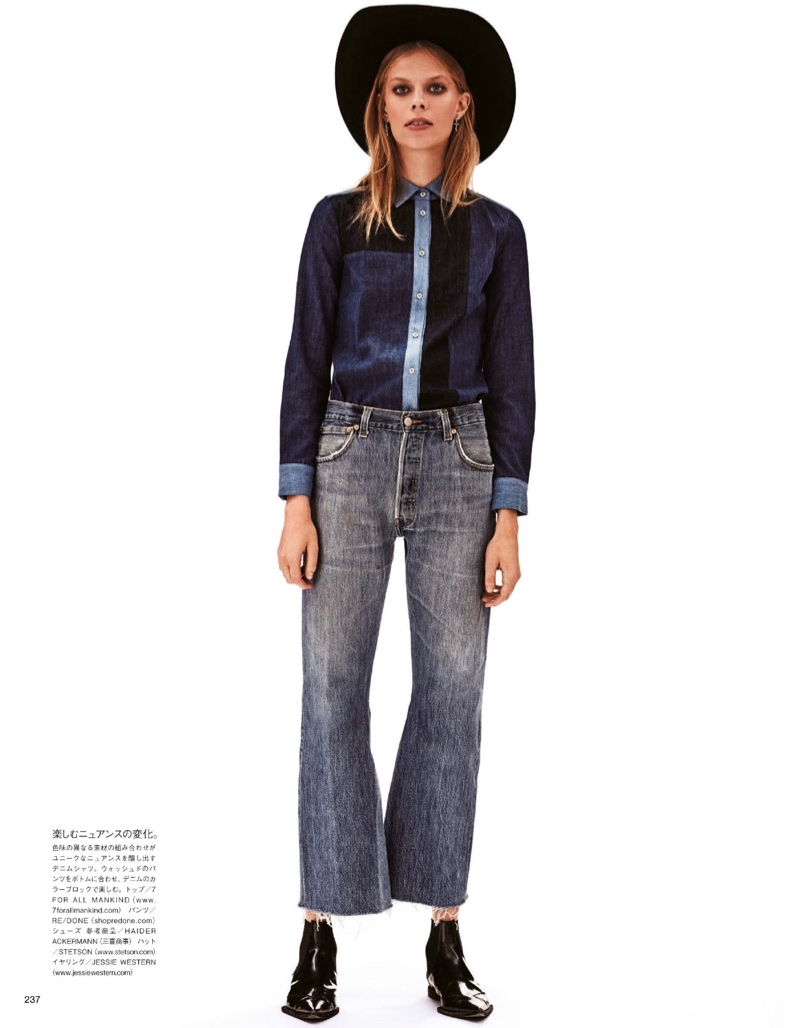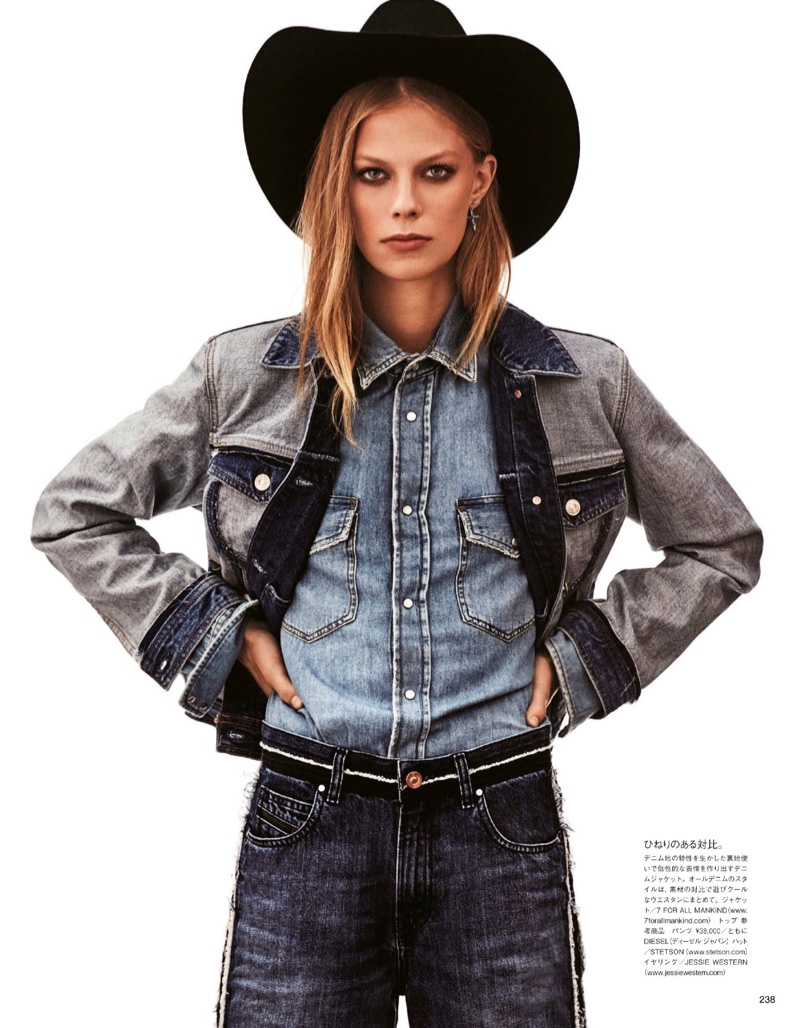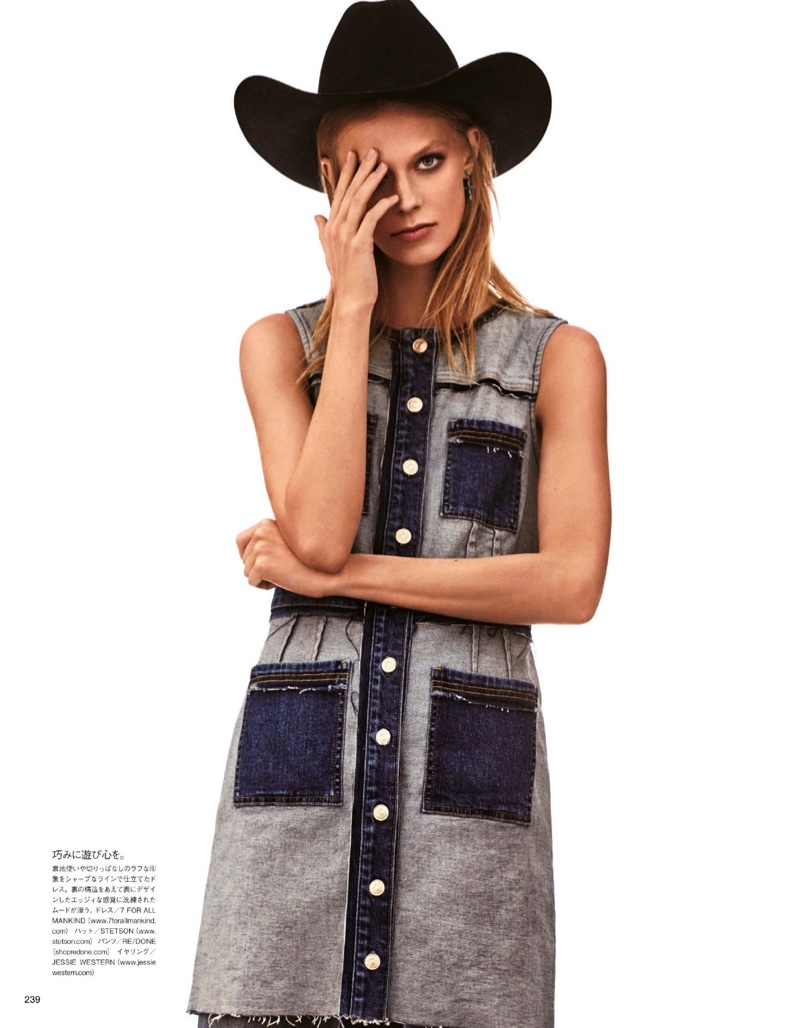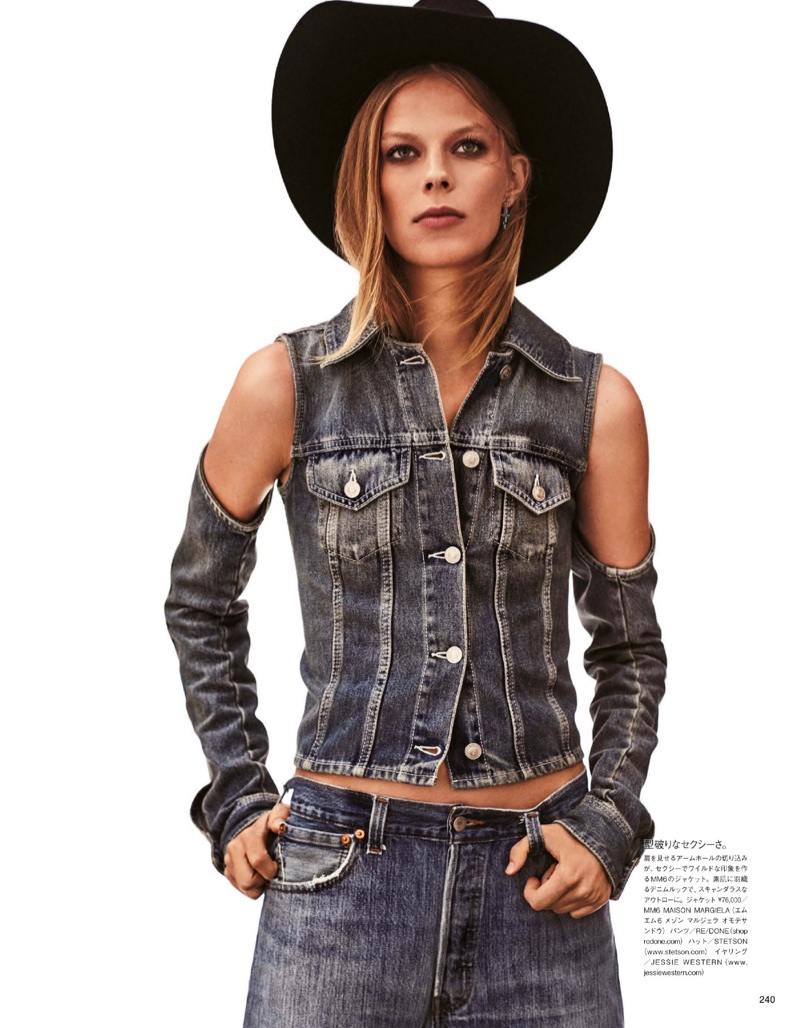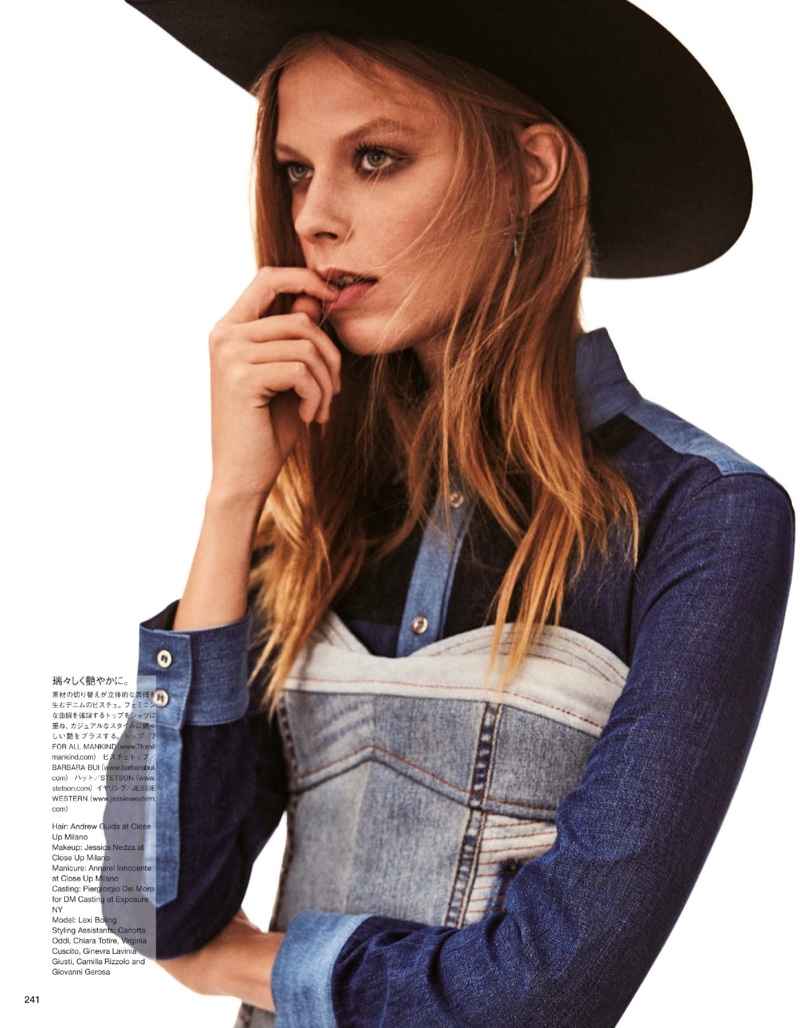 Designer Bags, Wallet, Purse, Belt & Accessories Official Site, Best Price & Quality, Free Worldwide Shipping, Free Returns. Each Bag Is A Work Of Art - Handmade - Cowhide Art - Can Custom-Made

Categories

New Posts

Hot Posts