6 SHORT & FLATTERING HAIRSTYLES FOR SUMMER
Writer:fashion Date:2018-2-27 16:17 Tuesday Categories:Other Brands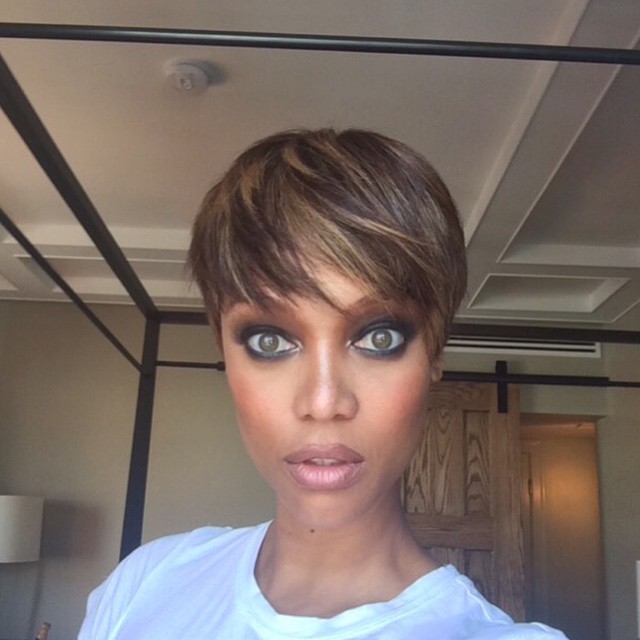 Tyra Banks with a pixie haircut
Choosing a short hairstyle for summer is the best decision you can make. Short hair can be flattering and fun to style, especially if you manage to match it with your summer wardrobe. Summer is a perfect time to experiment with different short hairstyles. Because it gets so hot, none of us wants to deal with long hair; we want something easier to manage. Our summer wardrobe is usually more colorful and casual, so we need to match our hairstyles with that.
#1: PUSHED BACK
This fun yet convenient hairstyle is perfect for hot summer days. Who wants their hair to keep getting stuck in their face all the time? Styling your hair this way is fun and simple. With this hairstyle, you can wear all recent and bold summer fashion pieces. Go for a statement V-neck tee and cropped pants to match your pushed back hairstyle.
#2: CROWN BRAID
Braid-hairstyles are great for women with hair of their own. You can try these short hairstyles for thick hair, too. Crown braids are flattering to all women. They go amazingly well with more feminine and soft summer wardrobe pieces. Just a simple dress or a flowery skirt with this hairstyle can make you look like a princess. It's a match made in heaven, really.
#3: CURLY AND MESSY
If you want to embrace your short hair that has a mind of its own, cut it shorter and have fun with it. Sometimes curly hair can be too high maintenance, especially during summer. That's why cutting it short can be an excellent choice. This is a flattering look for women with strong facial features. It goes great with simple wardrobe pieces. Even wearing simple dresses or shirts can look fun with this hairstyle.
#4: BOLD HAIRSTYLE
This one is for rebellious women. Everyone will notice how unique your hairstyle is, especially if you choose a bold hair color. This short hairstyle is flattering for women with strong jawlines. It's great to choose a vampy makeup looks and dark wardrobe pieces. Black leather wardrobe pieces with short dark hair is a perfect bold summer night out combo.
#5: PASTEL COLORS
This mermaid-inspired hair color is especially flattering for women with fair skin. Styling your short hair this way can be fun because there are no rules. Create cute summer curls and tuck one side of the hair behind your ear. Choose a wardrobe that has lighter color clothing pieces. Matching this hairstyle witha white dress will make you look like you've come out from a fairytale.
#6: STATEMENT BANGS
Bold-looking bangs will be especially flattering for women with larger foreheads. To create a full statement look, match this hairstyle with dark and mysterious wardrobe pieces. This is a great look for a fun summer night out. Take some time to perfectly brush your hair to the front and put some hairspray, so it stays put. A dark makeup style can also take this whole look to a new level. Everyone in the club will wonder who is this mysterious woman.
Short hairstyles are great for summer, not just because they're convenient, but because they match our wardrobe. Our summer wardrobe is usually more simple and fun, which means that we can go wild while creating new hairstyles. One of these hairstyles will definitely speak to you, so go for it!
Designer Bags, Wallet, Purse, Belt & Accessories Official Site, Best Price & Quality, Free Worldwide Shipping, Free Returns. Each Bag Is A Work Of Art - Handmade - Cowhide Art - Can Custom-Made

Categories

New Posts

Hot Posts